It,s really an interesting or confusing question, isn't it? Now I will help you to better understand, what color is a tennis ball? So don,t worry, let,s go to debate. I am just kidding. Actually Itsn't a debate. But Tennis Star Roger Federer is asked what color tennis balls are?. They're yellow, right?
Are these tennis balls yellow or green?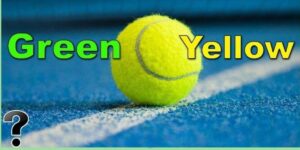 In 2015 a survey report showed that voted on social media. On Twitter that week to answer the question. Are Tennis balls yellow or green? On the other hand, Two-thirds said yellow but a third of voters say they view the balls as green in color.
Miami Open Roger Federer has clearly told to in front of her fan what color a tennis ball? It's "Yellow" right. Now the International Tennis Federation (ITF) what to say about this? They said the standard color of tennis balls is yellow or white. Also, The yellow color is often referred to as "Optical Yellow", the seams are typically white or light grey color.
What color do you think these tennis balls are?
Is it confusing right now? You are not able to compare which color is it. However, they are never green, but if you think it,s green it's likely you just have a unique perception of color. But when get very dirty or look old while it,s tend to start looking more greenish-yellow.
What color do you think a tennis ball is?
It,s seems a simple question, the tennis balls are obviously yellow color "Right". But some people say they are obviously green and greenish-yellow. Also, some people say they are both color green and yellow color tennis balls, One person said that The Wimbledon grass is green so it can not be green.
So why do some people see different colors?
We know some people are not able to see the adjunct color of anything. They are called color blind. Like Mark Zuckerberg, isn't clear to see green and red that why Facebook icon color in blue because he able to see blue color clearly.