Want to know how familiar is Tennis clubs in Greece? It's a popular activity in Greece. The history of the tennis club is ancient period. More than 100 years in the modern history of sports, tennis is being counted as one of the most favored sports all over the world.
In the early period, the tennis club in Greece is very famous. Today we talk about the best tennis clubs. So, Let's go the read.
Tennis Clubs in Greece & the Islands
How about in Greece? In Greece, Tennis is one of the most popular sports and almost every person from younger to elder loves to play tennis in Greece. Besides, the mild weather, the sunny days all year round and the Greek islands make tennis players more comfortable spending holidays in Greece.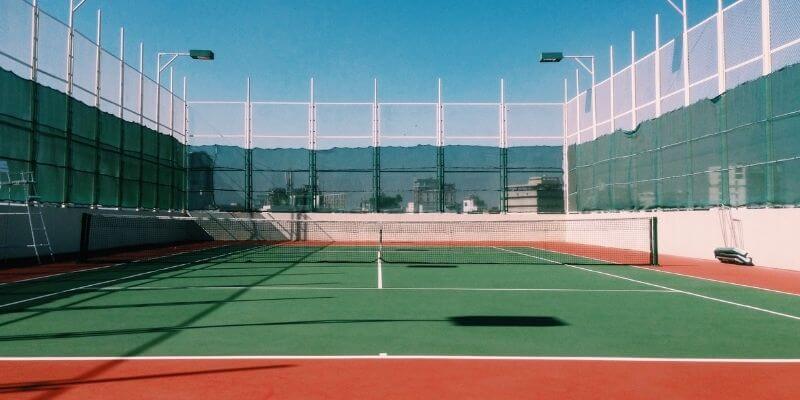 5 Best Tennis Clubs In Greece
One more attraction for tennis players in Greece is tennis courts galore that are found all around the Greek mainland as well as the Greek islands!
1. Thira Playland in Santorini, Fira
Thira Playland is one of the most impressive athletic centers in Greece. You can spend very enjoyable moments in Santorini as well as your holidays. It's positioned near Messaria village.
This playland was established in 2000, including two football fields, two tennis courts, a snack bar, some restrooms, a hall for aerobic training as well as dance lessons with a playground and a spacious parking lot.
To get a Santorini experience, you can plan a Santorini helicopter tour here as well as a boat or a wine tour. Basically, Santorini is surely one of the most enjoyable places for unique geology and landmarks.
2. Athens Lawn Tennis Club
If you look for one of the oldest and most reputable athletic clubs in Greece, then undoubtedly the Athens Lawn Tennis Club will be your choice. It was established in 1895 and it played an eminent role in the promotion of the tennis sport in Greece with a history of 125 years.
And for that reason, on its grounds, the first tennis match of the Contemporary Olympic Games was held in 1896.
Do you know which city hosted the first modern Olympic Games in 1896? The city was Athens and the first Tennis match at the Summer Olympics was held in 1896.
This historic tennis club is located at the heart of the city and next to Zappeion Megaro and just behind the Kallimarmaro Stadium. It provides all modern facilities. Many notorious tennis athletes are from this club.
3. Fair Play Tennis Club
This tennis club is located in Thessaloniki, Perea beach. If you want to get highly trained with unique facilities along with advanced equipment then the Fairplay Tennis Club is waiting for you. You not only can play tennis in this club but also can work out, swim as well as relax in the pool. This tennis court is near the Santorini, If you have to get more relaxed after practice a tennis session you can go Santorini Private Boat Tour.
4. Halandri Tennis club
Do you want to get familiar with the thrilling sport of tennis or practice more and try your luck at every organized tournament? Then, the Halandri Tennis Club will be the best option for you.
This popular tennis club is positioned close to the metro stations of Aghia Paraskevi and Nomismatokopio, Athens. If you like such a tennis club that is away from the noise of the overcrowded downtown areas, then this club is your best choice.
It provides all the modern facilities and you may get training in tennis courses from experienced professionals also.
Furthermore, you can spend very enjoyable moments by the impressive swimming pool as well as enjoy yourself with a palatable meal or drink at this club's restaurant.
Besides, if you want to get all the necessary equipment for the tennis sport, you can go to its store spot.
5. Corfu Tennis Club
Want to enjoy an excellent sunset with beautiful colors in the sky while playing tennis? Then, you may come to this Corfu Tennis Club. It's located in the quarter of Kefalomandouko, and it's about 1 mile away from Corfu Town.
During watching the tennis match, the athletes can enjoy various drinks and there is a private parking zone outside the entrance also.
The clubhouse is situated overlooking the two upper courts where athletes can enjoy a drink watching a tennis match. You can get high-quality tennis courses in this club from certified coaches.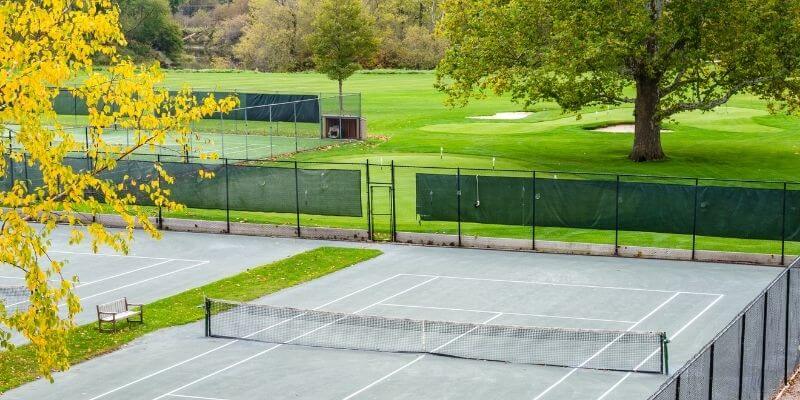 10 Best Hotels With Tennis Court Santorini Greece All Time
Blue Sea Hotel
Location: Kamari, Santorini, Greece
Hotel Mediterranean White
Location: Santorini All Locations, Santorini, Greece
Aqua Blue Hotel
Location: Perissa, Santorini, Greece
Hotel Kavalari
Location: Fira, Santorini, Greece
Hotel Elixir Studios
Location: Kamari, Santorini, Greece
Iliada Hotel
Location: Perivolos, Santorini, Greece
Splendour Resort
Location: Firostefani, Santorini, Greece
Hotel Adamastos
Location: Akrotiri Santorini, Santorini, Greece
Hotel Paradise Santorini Resort
Location: Akrotiri Santorini, Santorini, Greece
Afroditi Venus Beach Hotel Spa
Location: Kamari, Santorini, Greece
Tennis Clubs in Athens Greece
Their many tennis clubs in Athens in Greece, most of the clubs are very modern and use modern technology and a great advantage for any single player. Whenever you come to stay you will find an amazing place and environment.
Also, Athens Tennis Club is the oldest tennis club in Greece. Every tennis club is the best tennis balls for practice. Here the list of the Tennis Clubs in Athens Greece.
Tennis Clubs in Athens Greece
Tennis Club Athens
Nova Tennis Club
Athens Tennis Club
So this club is always open to athletic groups, children, adults, and senior players. It is a perfect place for outdoor family activities and recreation. The tennis court is reserved by the authority members,
The state-of-the-art tennis courts are the beautiful surroundings, environment, nature,
and arrangement and the club's elegant restaurant make the 'Athens Tennis Club' an ideal destination for mild athletic activities, leisure, and relaxation. So, if we want to combine our city vacations with mild athletic activity, in the best possible surrounding and environment, This Tennis Club is among our best options to play.
Conclusion
All these tennis clubs in Greece or tennis clubs in Athens Greece are famous because the whole country fame is one of them and the clubs of the capital are also famous in this area.
So not only Greece but also Athens clubs are very popular in Greece. The purpose of the tennis courts is always to spend leisure and relaxation.