An evolution in tennis training, perhaps, it's a gift in the tennis world – Billie jean king eye coach. King eye coach is a professional training system that can be used by players of all levels. Many of us are already familiar with this system and some of us don't have good ideas about the system.
However, I have been using this item for a long time and notice dramatic changes in my skill. So, I've decided to prepare this content – Billie jean king eye coach review.
Billie jean king eye coach is one of the best portable practice partners. It is not constructed only for improving your tennis shots. There are lots of benefits including implementation of techniques, combination, control, sight, and others. In this context, I am going to break down every fact of this product.
What is Billie Jean King's Eye Coach?
There are many revolutionary tennis training aids found these days. Billie Jean King's Eye Coach is one of the best tennis training accessories. It is named after the famous no1 tennis player in the world, Billie Jean King.
Billie Jean King's Eye Coach is a brilliant tennis aiding tool. It makes your practice more flexible avoiding the distraction of the middle net. This kit establishes a bold and firm point of contact towards the ball while the constant practice improves your footwork.
You can practice with Billie Jean King's Eye Coach anywhere and within the comfort of your home.
What was the Idea behind Billie Jean King's Eye Coach?
Tennis players enjoy the freedom of playing and practicing on the tennis compound. However, it is not always that you will have available tennis compounds. Moreover, time can be often limited and distance can also play a bigger role.
What if there is a firm tennis tool that can help you improve your point of contact with zero resistance and distraction?
Billie Jean King's Eye Coach was designed to focus on the player's point of contact. Those of you who are still not familiar with POC. For your information, the point of contact is the exact occurrence when the tennis ball and your racket touches.
Developing your POC gradually leads the way to guiding your eyes more firmly towards the trajectory of the ball. Once your PoC has improved, you will already feel like your footwork and body flexibility have also become much stronger.
Billie Jean King's Eye Coach Pro Review
Wherever you go this product will always come in use. Warm-up, cardio exercises, sweet spot practicing, timing, power skill, control, whatever practice you need you can tame with the eye coach tennis review tool.
Struggling with improving your skill, Mishitting normal balls, or losing power day by day? Whatever your problem is, one solution – Billie jean eye coach family. Beginners, professionals, instructors, groups, kids, adults everyone can practice using this excellent training system.
The manufacturers have claimed regular 5 minutes training for 5 weeks with Billie jean king eye coach used will improve your skill forever. It will improve your accuracy. Besides, the system will remove distractions and improves the self-correct ability. So your whole game will be affected. Now I'm going to explain some features of Billie jean king's eye coach pro model. Other tennis training tools review.
Key Features
Compatibility: Billie Jean King's Eye Coach is perfect and safe for people of all ages and players with any skill. From beginners to skilled tennis players can take it to the courtyard and practice.
Increasing Performance: A regular 5-minute practice can improve your tennis skill by up to 40%. One hour of courtyard practice is equivalent to 5 minutes of practice in Billie Jean King's Eye Coach.
Many Options to Choose From: Billie Jean King's Eye Coach offers you to practice in 30 different styles. Once you have mastered your speed and efficiency in these styles, you can easily create your form.
Home Training: You can easily place this tennis aid kit inside your home and keep practicing. All you need is 10 feet of space all around the setup and all done! This tool can be perfectly set up in your hallways, open dining, or your balconies.
Easily Portable: There are only 3 screws and 1 lock used in the entire setup. You can easily disassemble it and carry it anywhere you like with you. It takes only 3-5 minutes to separate all the parts of the eye coach and you are ready to go. This top-rated kit only weighs 13 pounds. It can easily fit inside any carrying bag.
Increased Solid Hits: While practicing with Billie Jean King's Eye Coach, you will have 120 solid hits out of 150. The total ratio of active hits is 80%, even for a beginner. Keep practicing and this ratio will keep increasing as well.
Zero Distraction: When you practice in the courtyard, it is unavoidable to have distractions. With Billie Jean King's Eye Coach, you can play with zero distraction ignoring the tennis net. And if you play at home, you will even get rid of the crowd as well.
Focused Eye Contact: Practising with Billie Eye Coach allows you to make direct eye contact with the sweet spot of your racket and the ball. In a word, you can directly interact with the point of contact. It increases the possibility of more accurate shots and your performance.
What are the benefits?
Here I will shortly show up the benefits of this fantastic training tool.
Improve hand-eye coordination and control.
The system will speed up your training process.
Your point of contact will be improved.
There are opportunities to practice 17 different strokes.
Only 13 pounds in weight, easy to carry.
Available bag with extra room for the bottle, ball, bat, etc. (You have to purchase it separately.
User-friendly item.
Allow you to practice both indoors and outdoor.
Anyone can use the product.
Adjustable height according to your need.
Drawbacks
Besides having an uncountable number of benefits there are some drawbacks as well.
Someone feels it is too repetitive and boring.
There is no feedback or suggestions about accuracy and ball placement.
Doesn't let you experience good footwork.
The price is slightly higher.
How do you use the Billie Jean Eye Coach?
It is very easy to practice with Billie Jean King's eye coach. However, this article is beginners friendly. Hence we would like to present its use in detail.
Step 1: There are three screws and one lock to assemble this tool. It is very easy to put this coach together. And you can follow the user's manual that comes with the package. Put the two different bases together with the screws. Set up the ball stand on the middle rod and lock it. And it is done.
Step 2: Taking help from Billie Jean King's Eye Coach is as real as practicing in the courtyard. Line up in position as you would have in the training ground. This way, you will be able to memorize the strokes.
Step 3: Put the tennis ball in line with the sweet spot of your racket. Maintain a comfortable distance from where you can notice the point of contact of the ball and racket.
Step 4: Start stroking the ball with a cool medium tempo at the beginning. There is no need to rush. With this medium tempo, you can have an 80% solid hit ratio which is enough for a beginner.
Keep practicing regularly, slowly increasing and modifying your pace. Within 5 weeks, you will find yourself playing like a professional tennis player.
Note: Do not initiate a forceful stroke on the eye coach. It will only waste your energy and time.
You can check this video clip for more detailed info and tips – Tips to follow
How Easy it is to Use Billie Jean King's Eye Coach?
Billie Jean King's Eye Coach is very easy to use especially when you have adapted to a solid position. We described earlier how easy it is to set up this eye coach.
There is no side distraction or interaction. It is only you, your racket, and the eye coach. You can set up the tool anywhere you prefer comfortably. It can be your backyard, rooftop, or simply in your hallways.
Practicing this tennis tool does not require any additional gear. The ball is well held with the help of ergonomic string protectors. These protectors keep it safe for your racket strings indifferent to how hard you shoot.
Billie Jean King's Eye coach saves your time 300% more than practicing in the courtyard. A 5-minute practice a day on this tool can prepare to have 5000 revs in a week.
However, each practicing ball will last only 5 weeks with 8000 shots in total. And both of the string protectors will last 100,000 shots together. It is wise to change your balls once a week for better practice and durability.
How Will Billie Jean King's Eye Coach Help You to Improve?
We are already well aware of the privilege and benefits of practicing in Billie Jean King's Eye Coach. Here let us talk about how it will help you to improve your skills.
Keeps Your Eyes On Track: Billie Eye Coach helps you to focus your eyes on the tennis ball. Once you have gotten used to practicing on this tool, you will get aware of the three feet trajectory of the ball before hitting your racket. It is the most crucial and beneficial part of learning with this tool.
Improves POC: Point of contact is the moment when your racket touches the ball. Hitting the ball with the sweet spot of the racket extracts more power. It allows you to take control over the speed and pathway of the ball. An improved point of contact establishes a firm and stronger sweet spot hit with better maneuverability and flexibility.
Develops Your Style: Once you start practicing with Billie's Coach, you will soon realize the differences. Practicing on this eye coach for five minutes can help you develop your unique tennis style. Moreover, Billie eye coach offers you to practice in 30 different pre-existing moves. If you spend 5 days regularly on this kit, you will figure out the change in you and make your creative style.
Improve Your Hitting Power: Regular practicing with an eye coach lets you find the sweet spot more easily. As a result, the ultimate hitting power will be improved.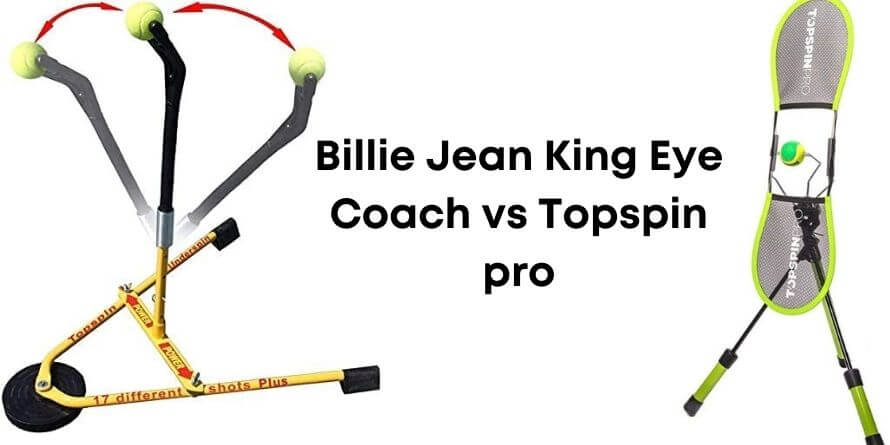 Billie Jean King Eye Coach vs Topspin Pro
Most of us think Billie Jean King's Eye Coach and Topspin Pro are the same. They can be similar but they are not the same. Here is why the Eye coach guides you firmly to the point of contact between your racket and the ball. There is more flexibility and freedom to observe and manipulate the hit with the tennis ball.
However, when it comes to Topspin Pro, your mind is thoroughly guided and kept in a constant position as long as you practice. It is very hard to be disconnected from the determination of practice with Topspin Pro. Two side flings here hold your racket once you complete your stroke.
In my opinion, an Eye coach is for people who are intermediate or complete professionals. They know where they need to keep their racket each time they touch the ball. Billie jean king eye coach vs topspin pro has a little bit similar system.
On the other hand, topspin pro is best suited for beginners where each time you will be guided.
Billie jean king eye coach replacement arm

Eye Coach Replacement Arm, if your eye coach is broken up and repaired you can use a new replacement arm for this. So this option can help it more spontaneously.
FAQ
Is Billie Jean King Eye coach worth it?
Any tennis player who has used this Billie jean kings eye coach to get quick improvement in their game. It is very beneficial of the tennis equipment and east to play. It helps you to practice much more.
How do you use Billie Jean King's eye coach?
You can put this at any comfortable distance where you could stand and play pleasantly. Are you touching the back of the ball, that is the way you do it? So keep practicing.
Which is the best tennis trainer?
There are lots of tennis trainers available among them I would suggest Billie Jean King's Eye Coach.
Final Verdict
So, after reading the whole Billie jean king eye coach review you must understand how effective the training system is. It is nearly impossible to describe all the benefits you achieve using the product.
However, it is your turn now to make a decision on whether you should purchase one or not. If you have a shortage of time and do not have enough space to practice regularly then there is no better alternative than Billie jean king's eye coach pro. Thanks for reading stay with us and get tennis info as regular on our blog post.