Continuously annoying to find out the best tennis ball for the machine. We want to help you, so don't worry about it. Spinshot tennis ball machines are becoming popular when they offer a convenient way to make sure to practice by yourself.
Here we experiment with the best spinshot tennis ball machine. There're many various functions and operating systems that will show you!
In this post, we're talking about the best spinshot tennis ball machine, reviewing, comparing, and helping you to figure out which one is best for you. Spinshot tennis ball machine has a different model.
The Best Spinshot Tennis Ball Machine Reviews
We believe that to cover the whole comprising and how to use spinshot tennis ball machine. There are many normal model markets today with similar machines. But here you are getting the world's best tennis ball machine. See below and step-by-step follow this, we think it would be easier, and enjoy your practice.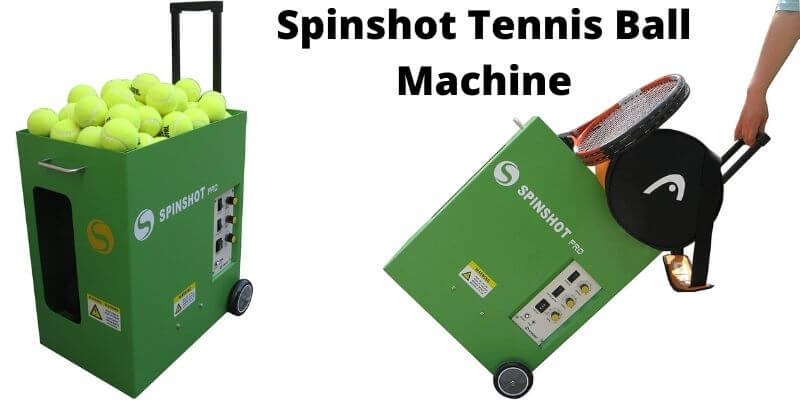 1. SPINSHOT Plus-2 Tennis Ball Machine
The SPINSHOT Plus-2 Tennis Ball Machine is great for intermediate, PRO, and beginner tennis players. Its unique features let you hone your skill tirelessly for 2 – 3 hours on a single charge. Although it has many features, you can customize it without losing much time.
The ball capacity of the machine is 120 and it can feed approximately 30 – 110 kph. Practicing fast-paced volleys is not an issue with the machine since the ball machine's feed frequency is 2 – 10 seconds. Controlling the machine is a breeze in multiple ways.w
The front control panel, free mobile app, and 1 Button Watch Remote allow you to control the device without any hassle. Also, I love the Apple Watch feature to start and stop the machine. The mobile app is one of the unique features of this machine.
Download the app to your smartphone and create custom drills according to your requirement. The app is for both iPhone app and Android supported. And create custom preset drills with up to 12 options with up to 6 shots/personalized drills.
And battery life connection is externally good and you can use multiple batteries for more training. The extendable hopper makes the square-shaped machine easy to transport and store. Moreover, it is lightweight and can easily be stored in your car's trunk. The color is beautiful, and it will shine on the court.
What we liked most:
Easy to control
Patented De-BallJam Design
Easily readable OLED screen
Quick Oscillation Setting
What could be better:
Run time is a little bit less than its competitor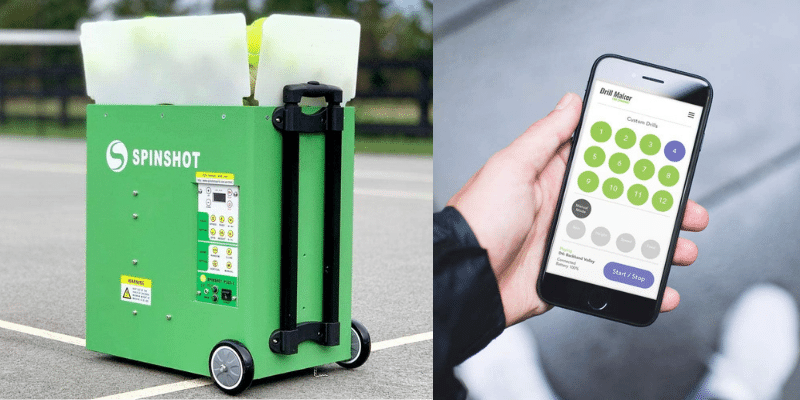 2. SPINSHOT-Player Tennis Ball Machine
The patented De-Jam Design and sturdy construction of the SPINSHOT-Player Tennis Ball Machine will satisfy you the most. Undoubtedly, this machine will help you improve your tennis skill so that you can fulfill your dream. It comes with modest features such as easy carrying, flexible power options, smart controlling mechanisms, and many more.
You can program things like feed rate, speed, angle, spin, and height using a free mobile-friendly app. A remote watch is also available to control the machine. As a result, taking out the phone is unnecessary when modifying the settings. The revolutionary design allows you to customize the design depending on your need.
It has 12 pre-programmed drills or custom preset drills that will let you play different shots to take your skill to the next level. Besides, you can choose the oscillation mode to be either vertical or horizontal. It is lobster-tennis-ball-machine-used. It is on wheels, so if you have a ramp for your SUV, you should be able to roll it up with little difficulty.
Spinshot tennis ball machines are battery-operated and do not need the plugin. This machine is assembled with strict quality control checks at each step of the process, testing each part for durability and dependability. In terms of longevity, it serves for many years.
What we liked most:
Compact-sized and easy to carry
Easy to customize
User-friendly
Brilliant customer service
What could be better:
Often mobile app fails to work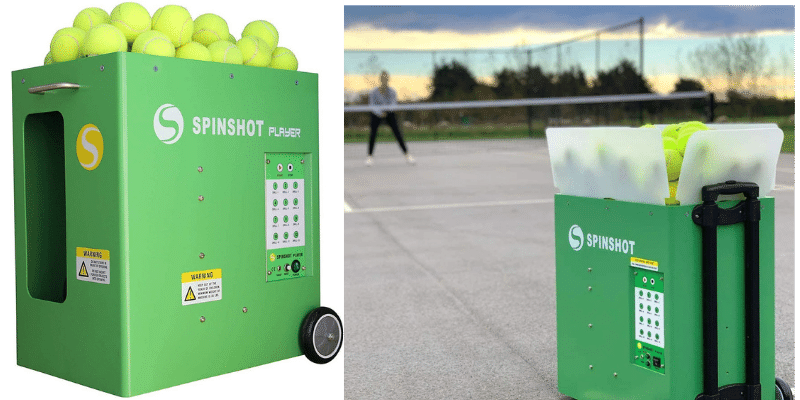 3. Spinshot Pro Tennis Ball Machine
Spinshot Pro Tennis Ball Machine is another good tennis ball machine that is a new version of spinshot machines. All features knob controllable and flexible power options. It is the best tennis ball machine even a child can operate. Further, started playing tennis with spinshot brand is ranked No#1 in the world.
This pro high spin model is best for family use of all its feature. This tennis ball machine's ball speed is high than another ball machine. These tennis ball machines will be ideal for tennis players both children and adults. Horizontal oscillation and easy to use.
With adjusted top and backspin, the horizontal oscillation allows the ball to be randomly swept tennis ball across the tennis court. The Spinshot Pro holds up to 200 balls and the feeding rate can adjust between 2 sec to 10-second intervals.
Feature
Speed of Basic Model (kph): 30-110
Speed of High-Spin Model (kph): NA
Battery Play Time (hours): 2-3
Ball Capacity: 120
Weight: 17kg
Drills: NA
Oscillation: Horizontal
Remote Control: Remote Watch
What we liked most:
Battery Connection Externally
AC model & Mains Power Modules
Playing time: 2 to 3 hours typical
An easy solution for power setup options
New tennis ball machine
What could be better:
20kg for the battery model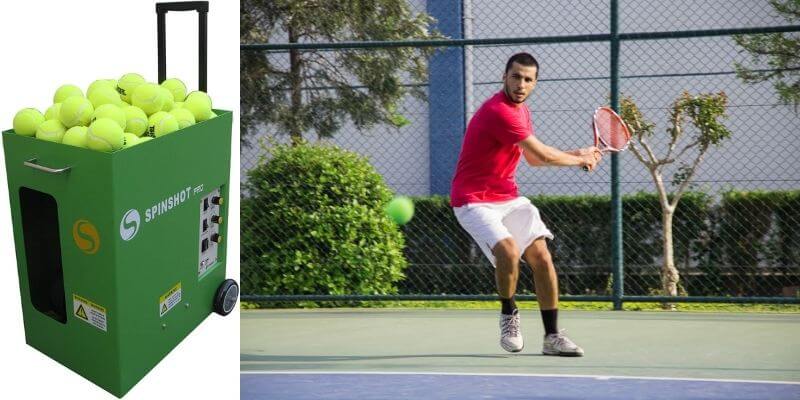 4. Spinshot Plus Tennis Ball Machine
The Spinshot Plus is one of the most advanced and expensive machines/models. Because it is some rocks neat features. It is only a tennis ball machine that you to adjust all the essential variables like program speed, oscillation, frequency, and the adjusted spin.
But there are some differences in the tennis game, The Spinshot Plus can deliver randomized two-line vertical oscillation and horizontal. Actually, what it means to you as a tennis player is that you are getting one step closer so what you will do to get experience in a real match?
This machine will shoot from different directions and heights. so that way, you can practice forehand and backhand shots. like, drops, volleys, overheads, lobs, and more.
This model is that you can adjust by using your smartphone( Android Phone or an iPhone). You just download the Drill Maker App which is entirely free. Otherwise, adjust it by using the side panel. It can deliver balls at speeds between 18.6 to 62.1 mph ( 30-100)
Feature
Speed of High-Spin Model (kph): NA
Battery Play Time (hours): 2-3
Ball Capacity: 120
Weight: 17kg
Drills: 2-Line Drills/Edit Oscillation via Front Panel
Oscillation: Horizontal/Vertical
Remote Control Drill Maker App: Remote/Remote Watch
What we liked most:
Patented De Jam Design
Random setting & remote option
Multi-function speed control
The typical oscillation mode
Best tennis ball machine
What could be better:
Inconsistent ball throws old & new balls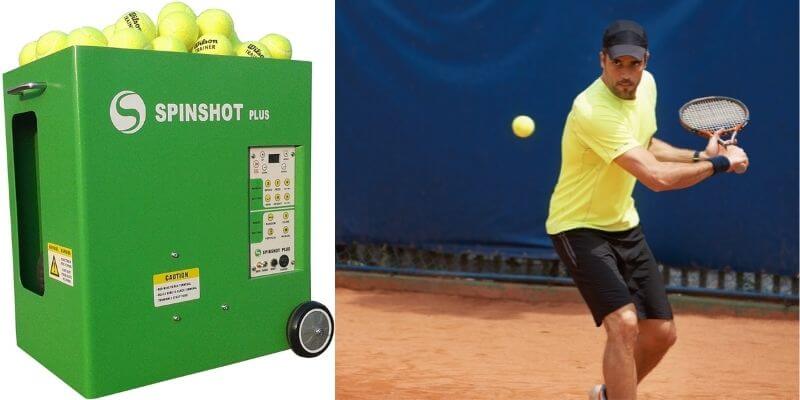 5. Spinshot Lite Tennis Training Machine Basic Model
The Spinshot is one of the best compact and incredibly user-friendly tennis ball machines you can get. Only tennis ball machine with high power motors that hit balls. The feeding rate adjusts 2 to 10 seconds, also it can hold 40+ balls.
It has basic control that is used to adjust the speed and rate at which it shoots the ball to customizable drills. However, here you can not control the spin or remote control, so you have to use the penal on the side of the machine.
As soon as, you adjust and spin the switch on, and it will be ten seconds before it starts to shoot the tennis balls. On the other hand, the battery charger is long-lasting and will provide 7 hours of playtime on the court. If you use to make good training drills that make sure it improves your practice sessions.
Feature
Speed of Basic Model (kph): 30-60
Speed of High-Spin Model (kph): NA
Battery Play Time (hours): 4+
Ball Capacity: 50
Weight: 10kg
Drills: NA
Oscillation: NA
Remote Control: Remote Watch
What we liked most:
Junior & Intermediate Tennis Player
The Lite model's most popular
Extreme Portability
Embeded TopSpin Feature
What could be better: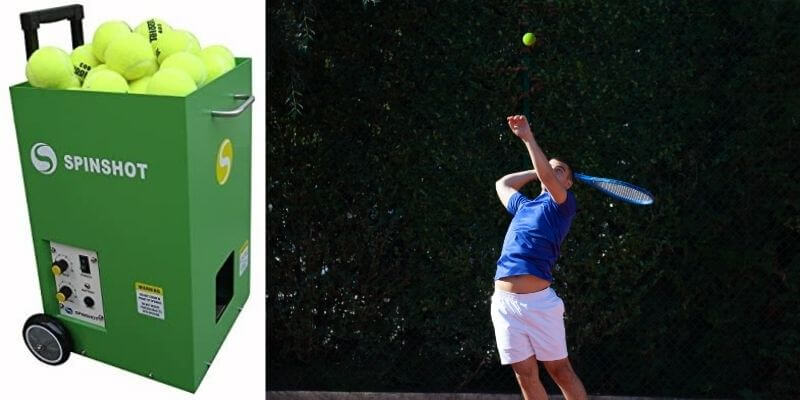 Buying Guide to Spinshot tennis ball machine
Spinshot tennis ball machine is a wonderful machine for tennis players. Spinshot player model or anyone you can undoubtedly purchase. 
Batter Life and recharging
In the practice time, the Spinshot machine is set up at 2/4 hours on average depending on exact use. On a day two hours, of practice is enough for beginners and intermediates. Its battery capacity will negatively impact the weight of the machine.
It needs a full charge of 8 to 12 hours. You'll cover two sessions per day. But overcharge protection is not obvious in these categories. So Spinshot tennis machine is a standard part of the charger.
Construction
Spinshot tennis ball machine has power coated metal box like other spinshot balls machine. It's the main positive of metal construction and is a high stability resistance to any damage. It has a drawback is the bigger weight ( 44 lbs, 20kg) of the battery.
It is another best feature, wheels and retractable handle ease the towing. Spinshot boxes are easy to store and it's rectangular in shape compared to any of the lobster tennis balls machines. Are you looking for a cheaper tennis balls machine? Check our review of Lobster Sports Elite Liberty which is a no-1 machine under the $1000 category.
Spinshot tennis ball machine Comparison
This video compares the features of our current lineup. To purchase a new Spinshot tennis ball machine. Spinshot player model, spinshot lite tennis training machine, spinshot player ball machine, Spinshot comparison look below.
Model Comparison Between Player and Plus2
The basic difference between the tennis ball machines Player and Plus2 but the same similar features and player model. Every tennis ball machine is a unique feature to compare each other. So what is the difference between the Spinshot Player and Spinshot Plus?
Spinshot Player Tennis Ball Machine Review
Spinshot Tennis Ball Machine Reviews with phone remote apps supported. The drill maker app and remote control help you to get better practice sessions.
FAQ spinshot player tennis ball machine
How do you use Spinshot?
Please follow the video instruction to play spinshot tennis ball machine, let's go
Where are Spinshot machines made?
Spinshot tennis ball machine is made in the USA in Southern California. It is the best tennis ball machine which has been manufactured on the market for years now. Spinshot is the overall best-selling brand with a great quality product.
Are tennis ball machines worth it?
Tennis Ball Machine is a great way to practice to improve your consistency in order to different shorts. You can choose what type of short you want and allow you to focus on and improve your form through repetition.
What type of tennis balls are best for a ball machine?
There are 5 Best Tennis Balls For Ball Machines, The first ball on the list, is the Penn championship, Also, The Dunlop ATP Regular Duty is another quality tennis ball that is perfectly suited for ball machines.
Conclusion
We think that you find out the best Spinshot Tennis Ball Machine Reviews that we mention.  If you are interested to read more you can check silent partner tennis ball machine is different from spinshot machine.
Spinshot player advanced machines are own drills and program drills for better practice sessions. Spinshot sports create an opportunity for more practice sessions that you find betterment end of the day, most machines are whatever playing level you are most machines definitely help you a lot.