Professional or beginner, every tennis player uses tennis ball happier for saving time and easy practicing. A tennis ball hopper is a straightforward tool to buy. But still, you need to consider different factors to avoid poor products.
A quality tennis ball hopper depends on different facets such as durability, price, weight, lid, capacity, etc. Considering all the things we have made long research and finally ranked the 12 best tennis ball hopper.
Today, I will discuss the 12 best tennis ball hoppers reviews with proper descriptions and features. So keep reading to for getting a quality tennis ball hoppers.
Different Features of Tennis Ball Hoppers
Top 12  Best Tennis Ball Hoppers Reviews
Before reading please check here the list of the best tennis balls hoppers that help you a lot before and after play. We collect the best tools for your necessary. Let's go to read.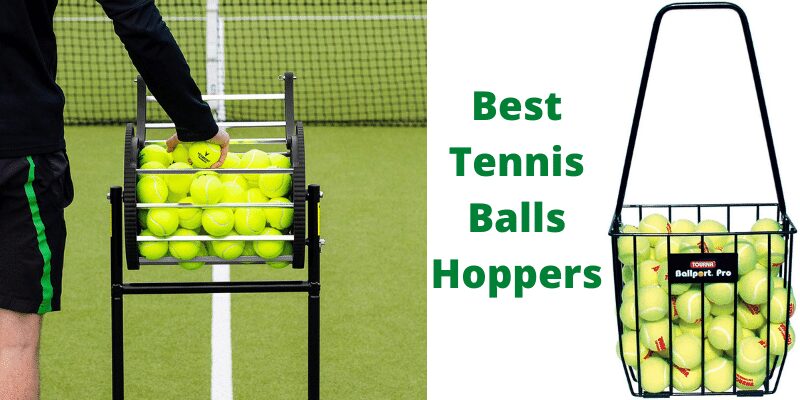 1. Tourna Ballport Deluxe Tennis Ball Hopper
Our first product in this list has almost all the features which customers want in their tennis ball hopper. Despite that Tourna Bellport Deluxe Tennis Ball Hopper is widely famous for its lightweight.
With 80 ball capacity, this tennis ball hopper is one of the best items for the tennis club or in the practice session. Tourna is the brand which been making ballport for 25 years, so you can blindly rely on their experience and expert hands.
This ball hopper is very easy to move from one place to another. The ballport has patented handles that can get locked in up and down positions. The legs of this product are quite sturdy. You don't have to worry that the legs will break down and all of your balls will spill out.
Highlighted Features
Height: 29.5 inches
Weight: 4lbs
Ball capacity: 80 tennis balls
The legs are secured in amount so underneath legs won't fly away.
On the top, there is a bar, so the balls won't spill out while moving away.
Positivity
Locking handles.
Easy to pick up and transport.
Cheap.
Drawbacks
A bit shorter in standing position.
Why will you like the product?
This ballport is very easy to assemble. At this cheap price, you will get the most wanted-to-feature ball hopper. Check more details in the beneath link.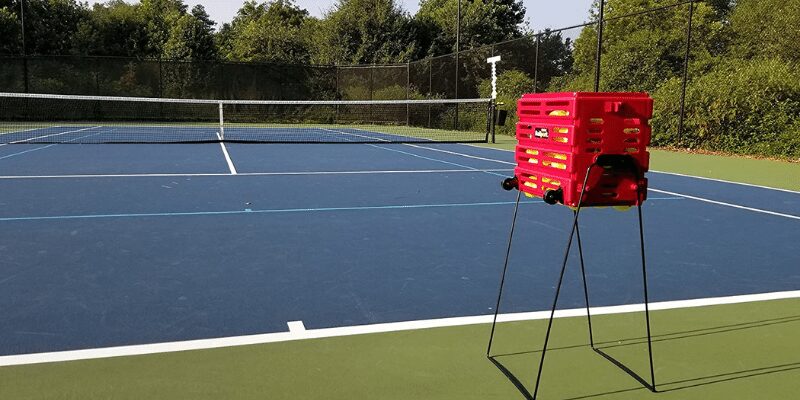 2. Wilson Tennis Ball Hoppers
Wilson Sporting Goods Co. is an ancient and renowned brand for tennis goods. They produce authentic balls, racquets, bags, and other products with their innovative styles and experience.
Wilson tennis ball hoppers has 75 ball capacity with the 'no-spill method. The hopper is steel build with a sitting basket design. As it is steel-made, you can assume the perfect durability of this product. The legs of this hopper stand very well and are sturdy.
The handles on side of this item come off easily if you want. You can move this item at any time or in any place.
Highlighted Features
Height: 33 inches
Weight: 4.5 lbs
Ball capacity: 75 tennis balls
The handles can be converted to legs or stands.
It has a 'no-spill designed special lid.
Positivity
The legs are lockable.
Very easy to transport.
Durable steel plated body.
Drawbacks
Slightly heavier than the previous product.
Why will you like the product?
Though this item is a bit heavier, yet toddlers or junior players can easily carry around this ball hopper. With cheap price and better quality, why not try this item once!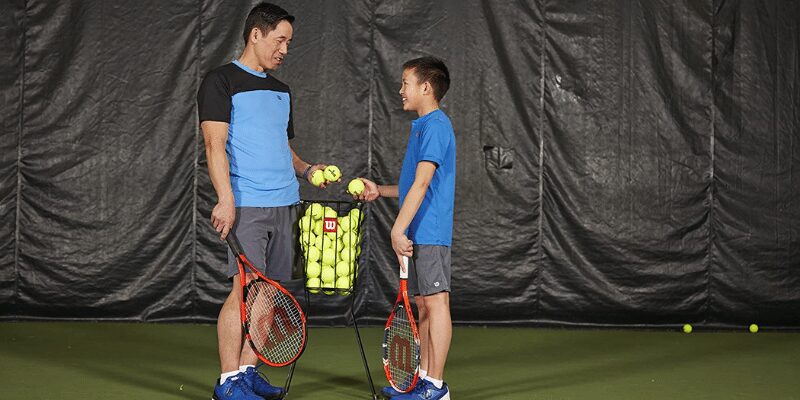 3. Gamma Sports Tennis Ballhoppers
Out of all tennis ball hoppers, Gamma made their product with the best materials and top features. Gamma Sports Tennis Ball hoppers are a lightweight yet heavy-duty item.
This one is made of a heavy-duty and sturdy gauged steel frame with reinforced welded construction. With this heavy construction, you can use this product year after year without damage. It's the best tennis balls hoppers.
Another plus point is, this steel-framed body is finely coated with weather resistance gold powder. It's called diamond-clad weather resistance gold powder. So, it will be durable like a diamond.
Highlighted Features
Weight: 5.35lbs
Ball Capacity: 50/75/90/110/140 tennis balls.
The legs can be foldable and lockable.
The legs can be converted into handles.
It has a secured hinged lid to prevent the ball from spilling outside.
Positivity
Very easy to assemble.
Highly durable.
Weather resistance.
Negativity
Why will you like the product?
For the innovative and extremely good finishing, these tennis ball hoppers are getting popular day by day. You can move and even can flip the sitting basket without slipping any balls when the lid is closed.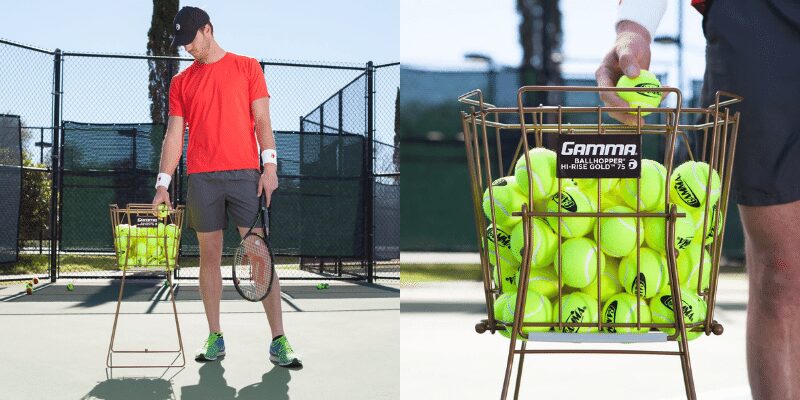 4. OnCourt OffCourt Tennis MultiMower
The list I made for the top 12 tennis ball hoppers, this one is the best tennis ball hopper of those. Since 1994, this company is producing extremely innovative products in the sports world. This ball hopper is one of the easiest and quickest ways to pick up and store tennis balls.
For tennis clubs or practice academies, this hopper can be an inevitable part. It's also the best tennis balls hoppers Kids, teenagers, or adults, all types of people can move this basket. The sitting basket can be worked as both a hopper and feeding card. You just have to roll the mower over the tennis balls then they will fall into the lower basket. Then you can empty the lower basket to the top basket.
Highlighted Features
Weight: 44lbs
Ball Capacity: 250-300 tennis balls.
It has 4 inch rugged and smooth-rolling wheels.
This multipower can be folded and fit into small places like cars. The folded size is only 43 inches.
The best and fastest way to pick up balls.
Positivity
Innovative design.
Work as both mower and hopper.
Can pick up all kinds of balls.
Drawbacks
Not too much portable like the other products.
Why will you like the product?
This ball hopper and feeding basket can save you countless times. This is called the best tennis ball hoppers with wheels. Coaches and teachers of tennis love this. product.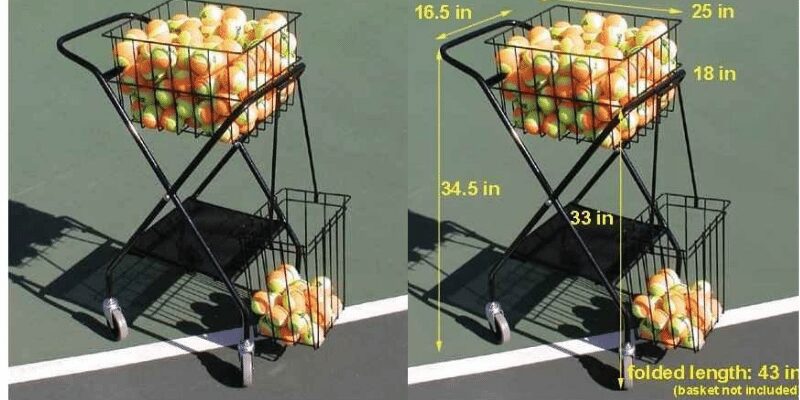 5. HOPARAZZI Elite Tennis Ball Basket
Like the other products in my list, you will find all the wanted features in HOPARAZZI Elite Tennis Ball Basket. The handle of this basket can be converted into standing sturdy legs.
Beneath the basket there are wheels. Some people prefer wheels and some don't. So, it is a very good option for both types of users. With the mesh and smooth wheels, you can effortlessly roll the basket.
It has plenty amount of ball capacity with sturdy construction. Plus, this one is very well portable. With a strong lid, the balls, won't spill out easily.
Highlighted Features
Weight: 4 lbs
Ball Capacity: 65 balls
The handles can be transformed into legs.
The legs have sturdy locks.
It has a snap-shut lid that keeps the balls in right place.
Positivity
17 versatile colors are available.
Quite sturdy construction.
No extra tools are needed to assemble the item.
Drawbacks
Why will you like the product?
Despite being expensive, I can guarantee you that each penny you spend on this ball hopper will be worth it.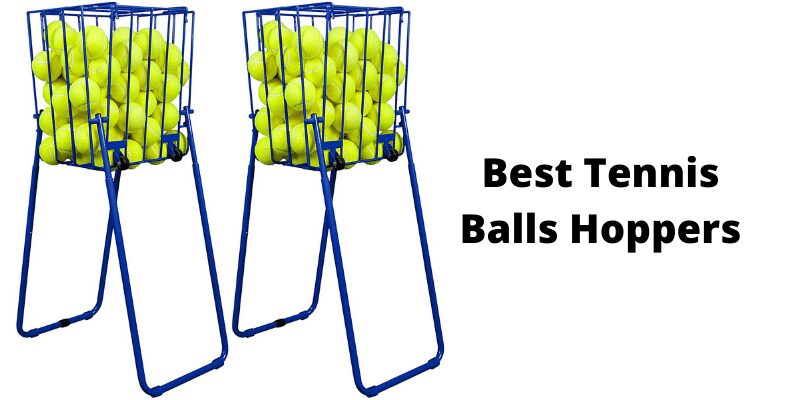 6. Tourna Pick up Tennis Player Hopper
Over 50 years, the Tourna is paving its way with its reputation. This brand has various kinds of hoppers that are tested by pros and coaches.
This hopper is slightly different from the other products. For daily rigorous usage and an extremely bad climate, this hopper is the best option. This picks-up tennis hopper has no moving parts. It has all fixed parts. Smart and best tennis balls hoppers.
The body of this tennis hopper is heavy-duty constructed. For teaching clubs and tennis ball machines, this fixed part basket is highly famous.
Highlighted Features
Weight: 7 lbs
Ball Capacity: 85 tennis balls
This classic tennis basket has one fixed handle and a metal frame.
It is made with heavy-duty steel wire and coated with weather resistance power.
The hopper is the best for regular tennis balls.
Positivity
Easy to assemble.
Suitable for stages 1,2 and 3 red balls.
Weather resistance.
Drawbacks
Why will you like the product?
The hopper has sturdy construction with 100% durability. Once you get this product, you will love this.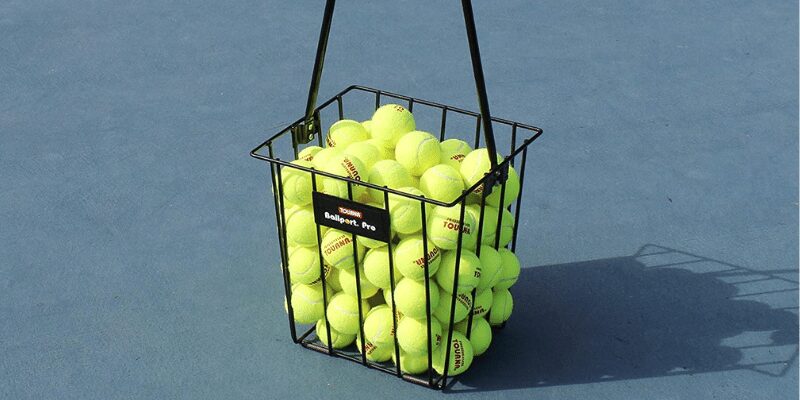 7. Gamma Sports EZ Travel Cart Pro
In all of my ball hopper collections, this one is the most exceptional. The popularity of the Gamma isn't unknown in the tennis world. The coaches or teachers who visit from academy to academy, need this type of travel cart.
The ball bag can be lifted out of the carrier within 5 seconds. It comes with a carrying case with wheels. The cage is very lightweight yet made with Aluminum. As it is a bag, it can slide from the cage, you may think like this.
To prevent sliding the bag away from the cage, the manufacturers made the cage in cross support. It helps to set up the bag and prevent falling the bag.
Highlighted Features
Weight: 1.2 pounds
Ball Capacity: 150 tennis balls.
The cage can be folded in a compact place.
The bag has a shoulder strap so your hands will be free.
The carrier is made of sturdy Aluminum and has smooth wheels.
Positivity
No assembly is needed.
Very transportable.
Lightweight enough.
Drawbacks
Why will you like the product?
I am sure this cart will meet all your necessities. It has the features all needed in a cart hopper.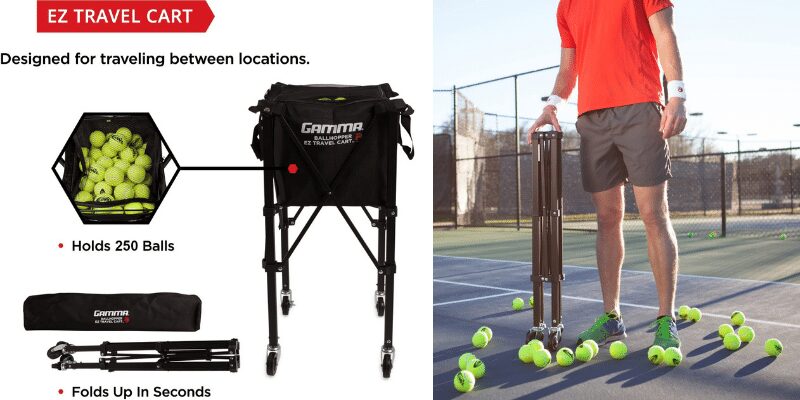 8. Tourna Classic Pick up Tennis Hopper
I was searching for the best tennis ball hoppers reviews, then guess what I found? This product has the best positive feedback out of all.
Customers gave a very satisfactory review and feedback about this hopper. The hopper is made of steel wire which you can assume is highly durable. The handles can be transformed into standing length.
The length is good enough, it will reach your waist. what is a tennis ball's weight? It has a sturdy lid that makes sure no ball slips from the hopper. You can easily carry this hopper around. The hopper is a bit big-sized, so toddlers may find it difficult to move this item.
Highlighted Features
Height: 30 inches
Weight: 7 lbs
Ball Capacity: 70 tennis balls
The lid secures the balls inside the well.
This hopper is made of steel and coated with weather resistance liquid.
Positivity
Quite strong body.
Durable and long-lasting.
Easily assembled.
Drawbacks
Why will you like the product?
The metal arms of this hopper can be converted into legs. You can effortlessly pick up balls and store them in the item.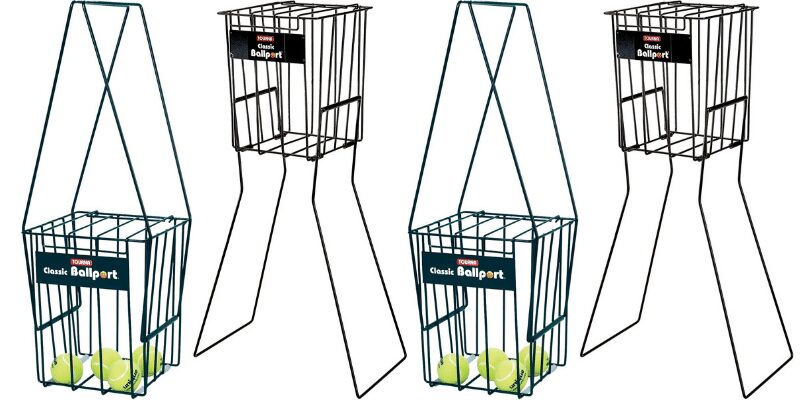 9. Wilson Tennis Ball Pick Up Hopper
Make your practice more effective with this best-quality tennis ball hopper. Wilson tennis ball pick product comes from the famous brand Wilson. The hopper is large in size. You can put 90 tennis balls altogether in this basket.
In the case of portability, this product is appropriate. There are 4 wheeled legs that are lockable for ball feeding. No worries about ball spilling because there are also lid hooks on the top of the best tennis balls hoppers.
Wilson tennis ball pick product is highly durable as it is comprised of lightweight graphite. The solid plated steel construction adds more sturdiness. There is also an instruction paper for proper use. So, every feature of this hopper made it a popular one
Highlighted Features
Appropriate for holding 90 balls.
Full black color design.
Solid plated steel construction.
Lid hooks are available on the top.
Easy to use with instruction paper.
Foldable handle and lockable legs
Positivity
Best for practicing.
Get long-lasting service.
Drawbacks
Why will you like the product?
The foldable handle makes it appropriate for people of all heights. So, carrying balls will be comfortable with this basket.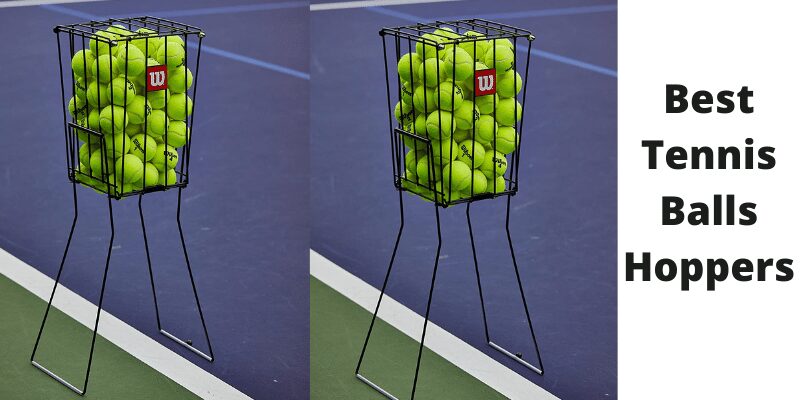 10. OnCourt OffCourt Handy Hopper
Now time for a popular Handy Hopper for tennis balls. This product started its journey 15 years ago and with different upgrades, it has become a durable and quality basket.
You can use it for holding tennis balls, baseballs, pickleball, softball, and others. It comes with an adjustable strap. So you can adjust it around your waist comfortably. You can move from field to field easily with this handy durable hopper.
This hopper is lighter than other metal hoppers. When you need to do serve practice, it will be helpful as it easily fills balls. The overall dimension of the item is 0.14 kg. So, place your order now for this portable tennis ball basket.
Highlighted Features
Compatible with adjustable straps.
Lightweight product.
Able to hold up to 36 tennis balls/35 baseballs/34 pickleball/21 softballs.
Appropriate for multi-purpose use.
Perfect for practicing and serving practice.
Positivity
Easy to carry.
Portable product.
Drawbacks
Why will you like the product?
The basket is lightweight and portable. The adjustable strap will be more helpful in carrying.
11. Tourna Ballport 325 Ball Tennis Teaching Cart
Tourna has a variety of ball carts and among them, this one is the largest capacity ball cart. Can you imagine, it can hold up to 325 tennis balls. So for the high-performance coaches, this elite cart is more than perfect. The cart has a cushioned handle and 4 wheeled legs. The wheels are sturdy, thick, and smooth. So, the cart is easily portable and comfortable to use. There is also a tray available at the bottom. You can carry makers, cones, and other necessary equipment on the tray. It is another best tennis ball hoppers with excellent performance. Don't worry about durability.
The is made with high-quality steel and the legs are made of 1-inch 17g chrome-plated tubing. So, it can withstand lots of hits on the court. The dimension of the package is 23.5″ x 21″ x 17.3″.
Highlighted Features
Heavy-duty steel construction.
1.25 inch smooth, sturdy wheels.
Capable of holding 325 tennis balls.
Additional tray at the bottom.
Compatible with foot-activated easy braking functions.
Positivity
Best for the professional coaches.
the cushioned handle has made it comfortable.
Drawbacks
Why will you like the product?
The best thing is the capacity of the balls. Already said, you can carry 325 tennis balls in this cart that is incredible.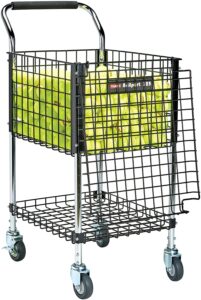 12. CHAOFAN 2 in 1 Tennis Balls Pickup Automatic Balls Receiver
One of the most unique tennis ball hoppers is here. Picking a tennis ball is extremely easy with this easy picking up stray roller cart. It is compatible with indispensable tennis tools that help to pick the ball without bending. Made of PVC and stainless steel, the roller cart is Highly durable.
There is an elastic rope on the side of the roller. Hook it to pour the balls out. The product is just 7.7 lbs. Using this rolling drum you don't have to spend much time chasing balls. The cart can hold 55 tennis balls at a time. So for saving your time and practice with ease there is no alternative to this rolling cart.
Highlighted Features.
The height is adjustable – 17.7 inches to 33.4 inches.
Material: Stainless steel and PVC.
No need to bend unnecessarily as it has a rolling ball collector.
Quick release function available.
Capacity: 55 balls.
Positivity
Unique design and time-saving.
Lightweight rolling drum.
Easy ball releasing feature.
Drawbacks
Why will you like the product?
The best thing is the quick-rolling ball pick-up system. You need need to bend or cost more time picking up balls.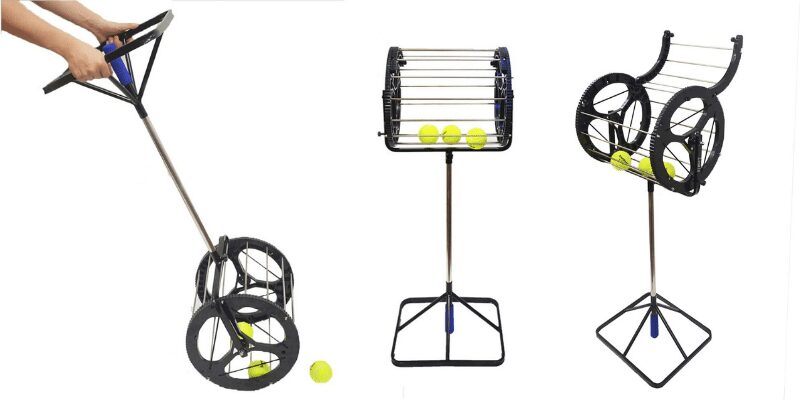 What Things Should You Consider Before Buying A Tennis Ball Hopper?
Now it's time to learn some facts about the best tennis ball hoppers. Keep reading the guide. Choose your best hopper, when you finally select your product before purchase check again its quality positivity and drawbacks.
Read our best tennis balls for hard court. we collect brands power coated of ball hopper where is no spill lid and lockable lid. Today's market is open access where press and buy any brands which are ready for your order. The site link is below every image.
Frame Type and Material of Tennis Balls Hopper
Tennis ball hoppers are made from steel or graphite. That material is formed of the various parts that make up the enter hopper.
There're some part of tennis balls hoppers
The Basket: It is a heavy-duty steel cage-looking frame used for holding the ball.
The Handle: The multiple handlebars are two handlebars that fold together for carrying basketballs.
The Legs: Some have four or two legs that elevate the basket and provide accessibility to reach the coach of the tennis machine during drills.
The Lid: It is less important to have it, but keep the ball secure when the ball does not use.
The Wheels: It is very easy to move the tennis ball hopper, and easier to move around the tennis surface.
Why Do You Need A Tennis Ball Hopper?
In the practicing time pick up the tennis ball really irritating that is why you need the best tennis balls hoppers to help you collect the ball and pick it up.
Durability
At first, check out the durability of the product. Most of the high-quality hoppers are made of durable plastic and PVC. As it will remain nearby the court it must be able to withstand powerful hits. So, must consider the sturdiness of the product. It must last over a year. How many balls are there in any tennis ball hoppers, depends on the large capacity.
Capacity
Every cart has a minimum capacity of holding balls. Some carts can hold just 30-40 balls, and some can hold over 300 balls. The more it will hold balls the larger it will be in size. The elite coaches use hoppers that can hold over 200-300 balls. The newbie players should choose a handy one with a capacity of 30-60 balls.
Wheeled Legs
If the hopper is not a small-sized one, then wheeled legs are very important. It will be heavier in weight and if you need to carry it then it will be a tough task. Wheels Included on the legs increases portability and ease of carrying. Picking up the balls will be easier using the carts. Large capacity and lockable legs and lockable lid that like tennis coaches
Foldable Design
A foldable hopper saves lots of our space. Though it is seen as rare, you can find some quality folding hoppers. If you are facing a space shortage, then choose a folding one. Read our best article on Best Lobster Tennis Ball Machine Used Reviews on our categories post.
How Much Do Tennis Ball Hoppers Usually Cost?
It depends on your choice and size, it can be nearly $30 and $500. A single ball hopper costs around $30-40 at max. However, a mower with 70 to 80+ balls capacity it costing over $400.
I don't think you should spend very much on tennis ball hoppers. Most of the hoppers last 1-2 years' maximum. So, you must have to change it. Get one in a medium price range. 
Frequently Asked Question(FAQ)
Q: What is a tennis ball hopper?
A: A tennis ball hopper is a device that helps to collect and reuse tennis balls that come to rest nearby or on the court.
Q: What is the best tennis ball hopper?
A: I have already discussed the 12 best products. The best product varies from professionals to beginners. Check out my suggested products and find your favorite product.
Q: How long does a tennis ball hopper tennis last?
A: It lasts more than a year. Make sure you get a quality product. Otherwise, it may get wrecked in a week.
Q: How many balls do fit on a hoper?
A: It depends on the capacity of the hopper. The larger the size is the more it can hold. A small size hopper can hold 30-50 balls, a medium-size holds 100+ words, large size holds 300+ tennis balls.
Final Verdict
I have already suggested the 12 best tennis ball hoppers. Our research team studied over 100+ hoppers and finally choose 12 products. All of them are durable and popular in ratings. We have also checked the customers' reviews for more security.
Understand your level in tennis games and select the appropriate product. Don't be late, grab your best tennis ball hopper today. Thank you for staying with us.